Our latest digital signage solutions
We've been so busy we forgot to blog. Ok, we didn't exactly forget. But I promise you it wasn't my fault. I wanted to blog, I really did. I had topics to blog about and everything. But someone tied me up with a bunch of HDMI cables and left me the stock room and I've only just broken free. If you'd just broken free after months of imprisonment in a windowless back room surrounded by media players and stationery supplies, what would be your first course of action? It would probably be the obvious course of action. Well, that's the course of action I've taken. I've gotten straight back on the internet to start writing about digital signage.
Here's a little run down of the fun digital signage projects we've developed over the last little while. Let's get you up to speed.
House of Fraser
We've installed digital signage at House of Fraser stores in Rushden and Sutton Coldfield. The photo above is their swanky new 2×2 55″ portrait video wall with ultra-slim bezels glistening in the entrance window to beckon customers inside at Sutton Coldfield. In Rushden we installed a single 4k 75″ display in their entrance atrium playing HOF's latest brand offers, promotions and the store directory. All content managed by us, on behalf of HOF.
Chopstix
We've continued our work with Chopstix Restaurants and have installed signage in another seven restaurants this year alone. Most recently we've installed three beautiful menu boards in both Dundee and Stratford locations.
All Samsung 40″, ceiling mounted above the serving stations with their beautiful new menu content – just take a look at the Dundee photo above/
Food Service
We've been very busy with our Food Service clients this year.  We're installing digital menu boards at more office and corporate locations with excellent results and feedback so far. Here are a few of our favourite examples:
Santander: We've installed dozens of screens around the staff restaurants (including entrance screens, kiosks and menu boards) at five Santander head office locations around the country. We even create and animate content for each location and manage the screens on behalf of the client.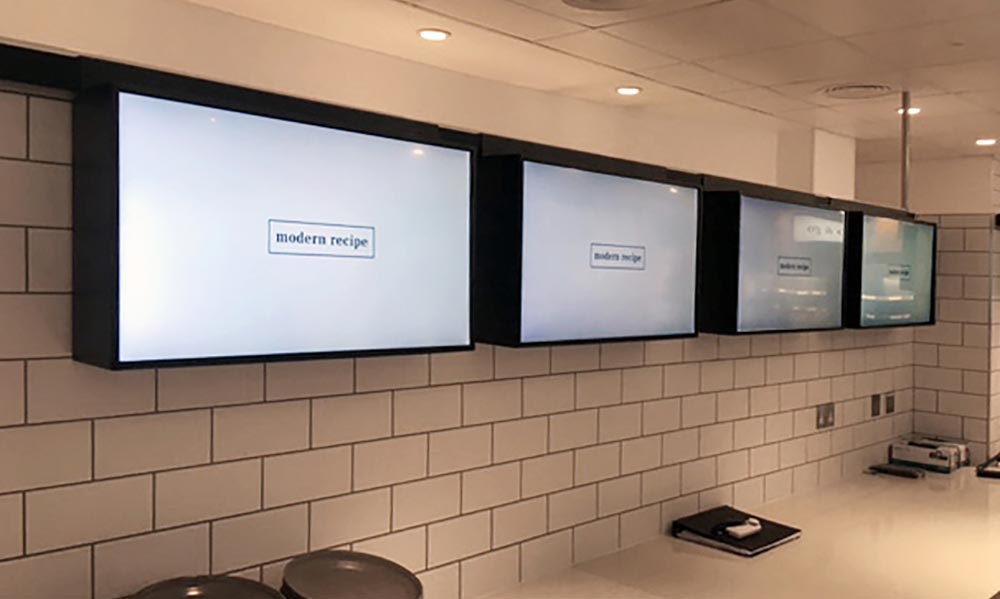 Diageo: We've established a fully managed digital menu board solution at the UK Head Office of Diageo, with a selection of screens dotted around the restaurant framed in black to match their decor and branding.
Defence: There are now even more screens in the entrance ways to the Junior Ranks Dining Rooms in many barracks around the South of the country. We're managing the screens and filling them with a variety of news, promos, updates,  events and even food concepts. Next up on our list is RAF Brize Norton.
Chelsea and Westminster Hospital: We've installed a fully managed digital menu board system in the restaurant at at Chelsea and Westminster Hospital. These ceiling mounted screens are making ordering easier for patients and visitors with the up to day menus and specials.
LUSH
On the retail side of the business we've been installing screens at Lush in Beak Street, London and in the Westfields White City extension. This is a new store with multiple screens and the content is a little bit different to the usual retail offering of advertising and specials. These screens are filled with luxurious, soapy videos to enhance the in store experience.
British Red Cross
New window displays have also been erected in British Red Cross retail outlets and we've set up screens at the UK head office site to drive urgent fundraising and stock appeals, as well as core brand awareness. It's looking great and it's really helping to spread this important message.
Princess Alexandra Hospital NHS Trust
30 new screens have recently gone live in this hospital across wards, waiting areas and A&E displaying healthcare information for waiting visitors and patients, along with up to date patient waiting times
The Shrewsbury and Telford Hospital NHS Trust
This NHS Trust now has 11 screens in their wards, waiting areas and coffee shops, displaying patient information messaging and up to date clinic information. All managed by our lovely comms team in conjunction with the Trust.