Welcome to our new website. Our new digital digs. Our old website needed some digital signage va-va-voom so we've taken a bit of polish, a smattering of unicorn tale and a dab of glitz to it and generally made it a pretty exciting place to hang out. Well, we think so, anyway.
We've updated our sectors. We've added in some exciting case studies. We've taken some beautiful new photos of signage and we're still trying to find a spot for a few more because we've got so many digital shenanigans to share with you. Here are a few things we'll be telling you about in the next few weeks:
We designed and created our own sleek kiosk enclosure for window displays. These are perfect for windows that don't have anything obvious to attach the screens to. They're currently looking wonderful in Travelbag locations around the country.
We've got a few pretty spectacular video wall installations coming up and we can't wait to show you how much a video wall can modernise what would otherwise be a fairly ordinary shop.
We've been playing around with parallax effects and turning photographs into engaging moving content for digital signage. It's looking really good and opening up a whole new world of opportunity for people who don't have a lot of video content but have plenty of static images
We're still working on one very important part of our website: the technology section. In there we'll explain a little bit more about the technology we sell, what's available on the market and all the brilliant new opportunities in the digital signage sphere in general. You are definitely going to want to take a closer look at this! It will be available within the month(ish).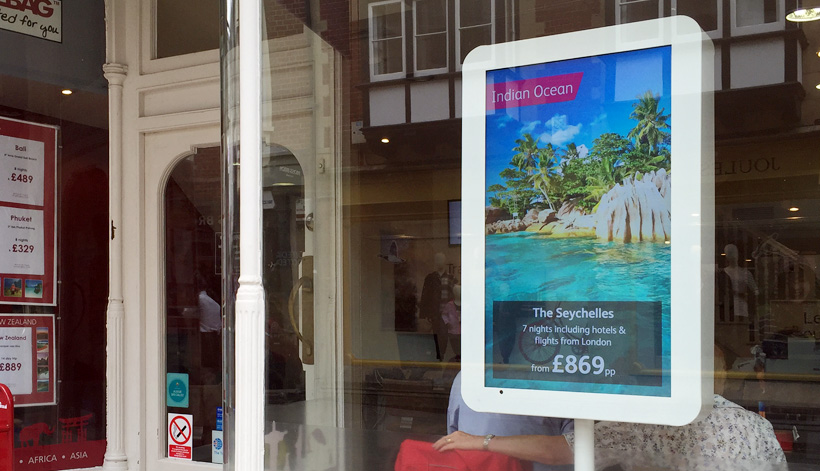 What do you think of the new website? Is there anything you've been looking for and can't find? Anything that confuses you? Let us know! We'd love to hear your feedback.
We're really looking forward to sharing a lot more of our digital signage news and adventures with you in the coming weeks.